Formworks for columns
Today, they are ideal for projects that have a complex or articulated architectural design.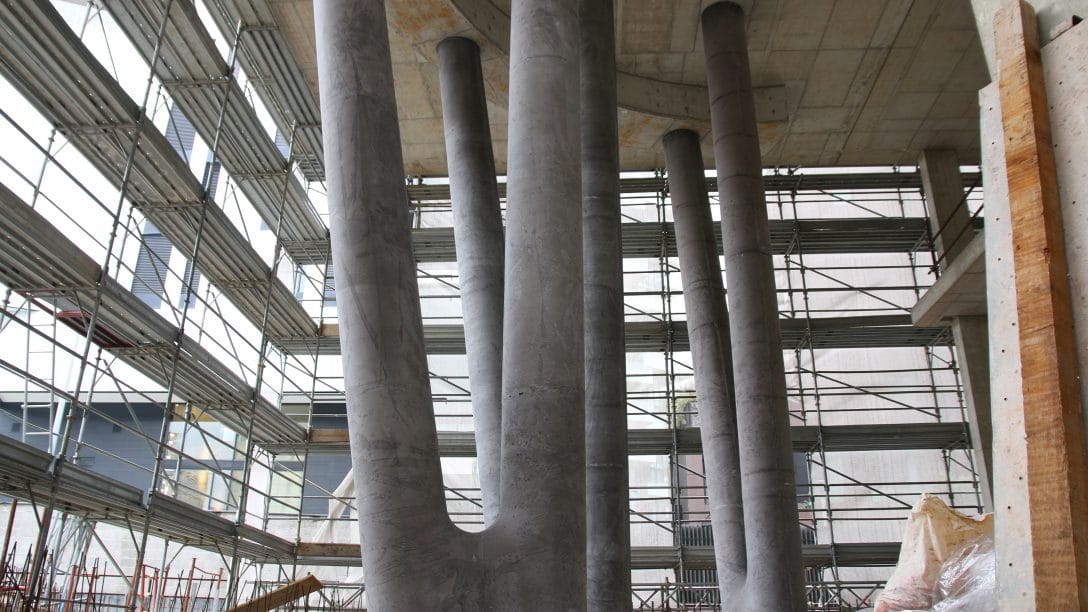 Formworks for columns are one of the most representative products of the company since its origins. The polystyrene foam can withstand concrete pressure up to 120 kn/m2, and it can be shaped in the most varied forms.
The resin coating is applied by spraying, then sanded to obtain smooth fair facings. A male and female joint system allows the alignment between the two halves of the reusable formworks. Arbloc offers both reusable and single-use solutions according to the needs.
Our solutions
Topfinish

Topfi nish formwork consists of two polystyrene elements that are fastened together and tightened by a traditional carpentry provided by the customer. A male and female joint system, consisting of a shaped wooden panel, allows the two halves to be aligned. The surface is coated with resin to allow for removal and reuse.

Design from drawings
Customized dimensions
Fastening system to care of the customer
Fair facing upon request
Male and female joint system
Reusable 6-10 times
Maximum resistance to pressure 100 KN/m2

Rapidoget

As a result of Arbloc's research and experience, Rapidoget formwork is equipped with a new fastening system, which makes it self-supporting so it does not need any other formwork to be fastened. Quick and safe, this new fastening system allows the formwork to be compressed evenly, with good resistance to the concrete pressure. Rapidoget formworks generally consist of two elements joined by a system of male and female joints made on a wooden panel for alignment.

Design from drawings
Customized dimensions
Self-supporting fastening system.
Fair facing upon request
Male and female joint system
Reusable 6-10 times
Maximum resistance to pressure 120 KN/m2

Monotub

Monotub is a single-use formwork made of waterproof material offering high mechanical resistance. Combined with a polystyrene mold, it becomes a solution to create classic columns with base and capital, cost-effective to make small quantities. Polystyrene molds are made based on customer design and size and are supplied without coating. In the catalog a series of drawings from which to take inspiration are available. The surface must be fi nished.

Design from drawings with circular shaft
Dimensions on standard diameter
Self-supporting fastening system except for base and capital
Two-step casting: 1° step base / 2° step shaft + capital
No fair facing
Resistance to pressure max 60 KN/m2

Monouso with fiberglass reinforced tape

Monouso is a single-use formwork that is milled based on the customer's design. With this solution the shaft can have a 3D shape. The pressure of the concrete is withstood by a fi berglassreinforced tape wrapped around the polystyrene. It is generally supplied without coating and already treated with a layer of release agent. The surface must be fi nished.

Design from drawings
Customized dimensions maximum height 3.5 m
Self-supporting fastening system
Fair facing upon request
Single use
Resistance to pressure max 60 KN/m2